Going Along Without A Body 2016-2018 with Cubitt and Notting Hill Housing
Conversationals/Soundtracking/Film/ Socials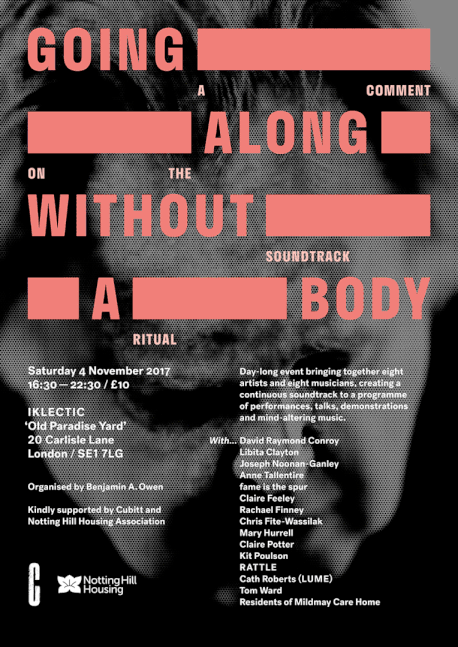 GOING ALONG WITHOUT A BODY – Films 2016- 2018
73 Mildmay Care Environment Cubitt Community Studio Residency
Going Along Without A Body began as a set of interviews with an ageing community recorded in 2017 with residents of Mildmay Care environment in Central London. It wasn't a straight set-up, as a musician was also present, improvising as the conversation unfolded. What emerged was a set of intimate surprising portraits, the presence of the musician within the film unsettling the expected relationships and revealing different dynamics at play between form and content. The work has had several manifestations, as live performance and installation.
Owen is fascinated by the nature of musical improvisation; its potential for the transcendent moment its approach to collectivity and trust and its exploration of conversation and form. Going Along Without A Body adopts similar approaches in its contrapuntal nature and in the form of its production, offering moments of discord, cacophony, intervention and accord.

Going Along Without a Body (Film excerpt)
CONVERSATIONAL // Installation and event 2018
The Mildmays, Islington with Cubitt Education and Notting Hill/Genesis Housing Group
RECORDED SEQUENCE of the installation
Radio show 'NonDef:Soundtrack to a carehome'  by Hoxton Radio centring on Mildmay and the installation.
AcCord publication poster with texts by Lizzie Lloyd and Esther Collins (Cubitt). Design Des Behari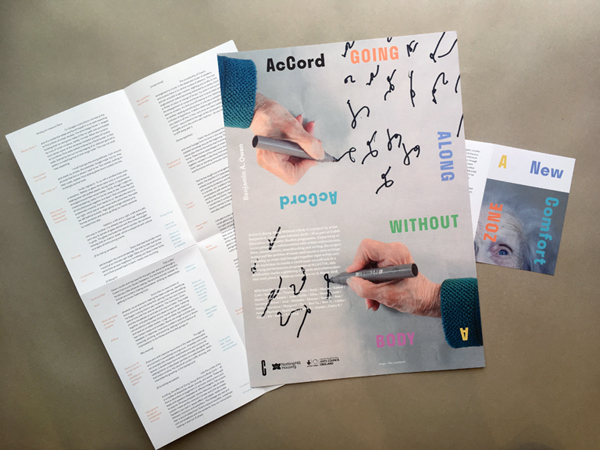 'Writing An Insecure Form' A text by Lizzie Lloyd pdf 
AN INTRODUCTION OF THE TONES –  Event and film in the library – Arts Council supported 2018
Video installation of the Going Along without a Body sessions installed at two Islington libraries (supported by Arts Council England).  The installation was accompanied by a live event featuring Alex Baker / Beverley Bennett / Rachael Finney / Kit Poulson / Mark Simms / Tom Ward.  Artists improvised and integrated their performance with film compilations for one hour.
Twin monitors, DVD players, library trolley, headphone mixer, varnished log slices, strapping, assorted books Left & right mono mix of Mildmay AcCord sessions  / 20 min loop / EVENT SOUND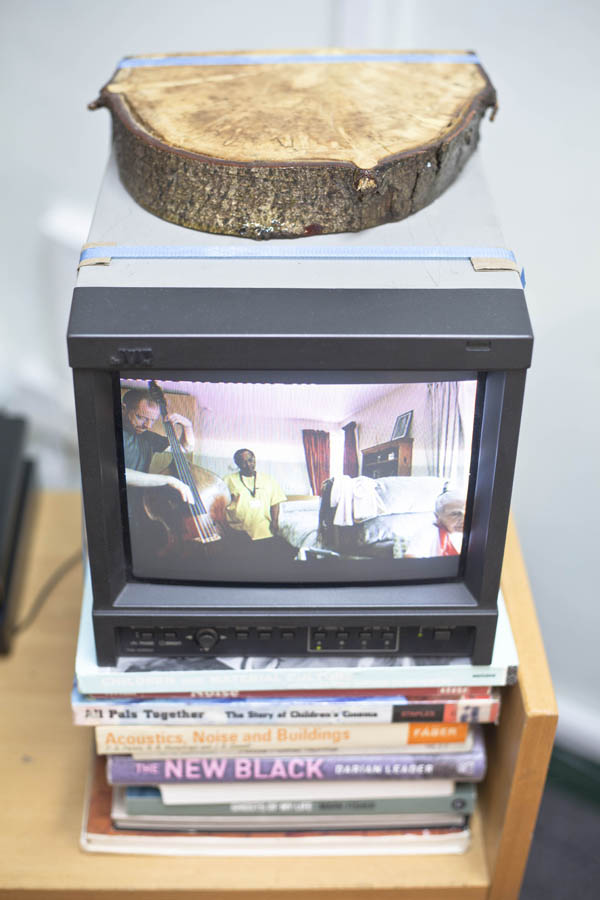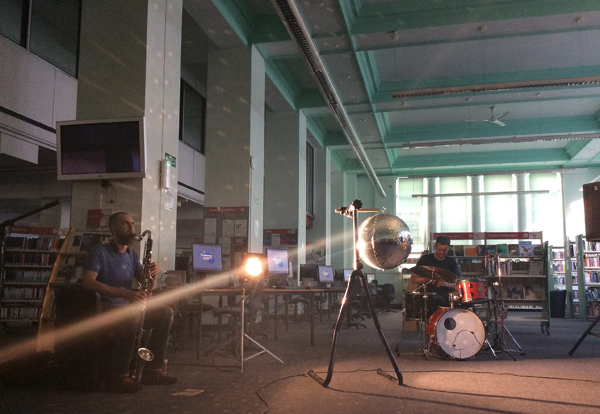 Event and installation poster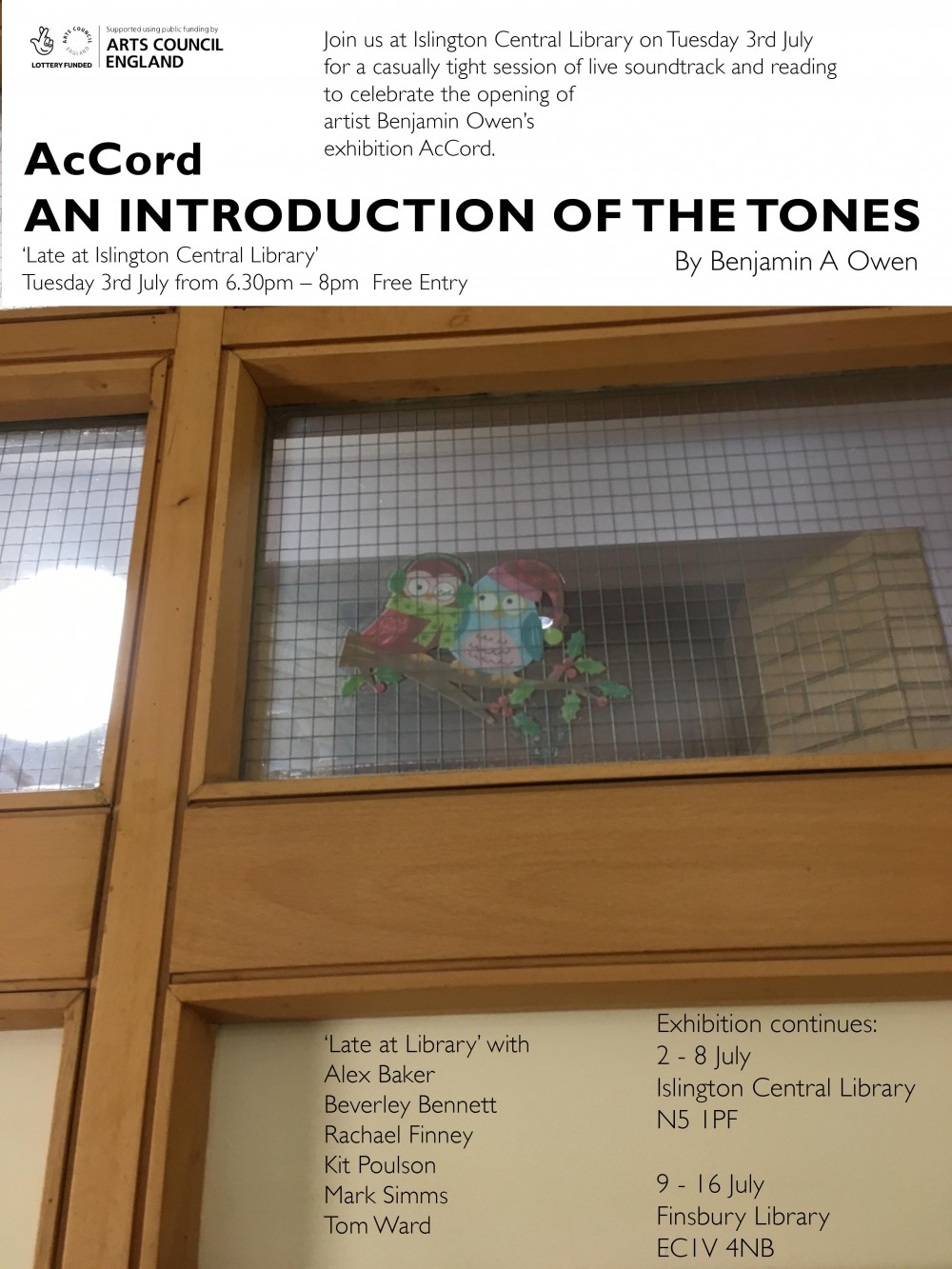 GOING ALONG WITHOUT A BODY – Day Event
Day festival by Benjamin Owen exploring sound-tracking rituals with invited artists
Iklectik 2017
The Going Along Without a Body day event brought together 8 artists and 8 musicians, together creating a continuous sound-track to a day-long programme of performances, talks, demonstrations and mind-altering music. In conjunction with with David Raymond Conroy, Libita Clayton, Claire Feeley, Rachael Finney, Joseph Noonan-Ganley, Mary Hurrell, Claire Potter, Kit Poulson, RATTLE, Cath Roberts (LUME), Fame is the Spur, Anne Tallentire, Chris Fite Wassilak, Tom Ward and Residents of Mildmay. Poster Des Behari pdf